Pork adobo. Chicken adobo. Shrimp adobo. Octopus adobo.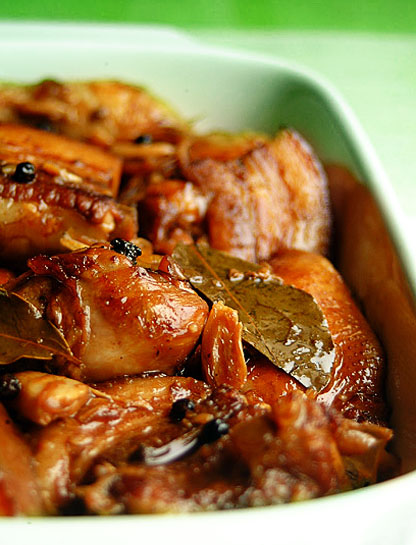 Pork and Chicken Adobo
Adobo, a dish made of meat or seafood usually marinated in garlic, vinegar, and soy sauce, is popular among Filipinos around the world including those who did not grow up in the Philippines.
And now, adobo has "evolved" into a cure for cancer?
According to a report of the Filipino Reporter on Thursday, the Philippine Nuclear Research Institute (PNRI) is developing food for people with low immune systems, including those afflicted with cancer, leukemia and AIDS through irradiation.
Juan Miguel Recto, PNRI science research specialist, said irradiated foods are safe to eat and nutritious.
Adobong pusit
Recto said they have applied the technology in chicken and pork adobo, which is available in two-kilogram (kg) up to 10-kg packs.
Adobo is one of the top favorite foods of Filipinos. Several sites, developed by Filipinos living abroad, have "how to cook adobo" sections.
One site, the Canada-based website
CalgaryFilipino.com
, posted not only an adobo recipe but also a video showing how the dish is cooked.
Earlier this month, the mother of top Filipino-Australian handball player Bevan Calvert revealed to GMA News Online that her son loves to eat Filipino delicacies such as adobo and dinuguan.
Although he grew up in Australia, he's definitely a Pinoy at heart, Bevan's mother Violi said.
"He certainly loves adobo, pancit, lumpia, and dinuguan!" she said of Bevan, who was recently named the best scorer in the "2012 Oceania Regional Handball Men's World Championship Qualifier."
Irradiated foods
Meanwhile, Recto said they would also try irradiation technology with brown rice and vegetables.
Recto said food irradiation can treat food without causing changes in freshness and texture.
"There is no change in taste," he said.
Recto added that irradiation could reduce microbes responsible for spoilage and eliminate disease-causing microorganisms.
Recto said they are still studying the shelf life of irradiated food.
The production of food for immune-compromised patients is being undertaken by the PNRI with the support of the International Atomic Energy Agency based in Vienna, Austria.
The PNRI, an attached agency of the Department of Science and Technology, is the lead agency in the country in research and development work on food irradiation.
PNRI's safe food for immuno-compromised patients was one of the technologies showcased at the SMX Convention Center in Pasay City last Tuesday as part of this year's celebration of the National Science and Technology Week.
Foods that define the Philippines
In March, the site CNNGo.com published an article about the "50 foods that define the Philippines."
"Filipino food may not be as famous as that of its Thai and Vietnamese neighbors. But with more than 7,000 islands and a colorful history, this archipelago has some delicious dishes of its own," the
report
said.
"Blessed with an abundance of seafood, tropical fruits and creative cooks, there's more to Filipino dishes than the mind-boggling balut (duck embryo)," the report added.

It listed the top Filipino foods as:
(1) Adobo
(2) Lechon
(3) Sisig

(4) Crispy pata
(5) Chicken inasal

(6) Taba ng talangka

(7) Pancit Palabok
(8) Bulalo
(9) Arroz Caldo
(10) Fish tinola
Source: GMA News Online